Hajj and Umrah pilgrimages are one of the largest religious gatherings of the world. Every year, lakhs of Muslim pilgrims visit the sacred cities of Mecca and Medina in Saudi Arabia with their evoked spiritualism. However, these mass gatherings are associated with numerous health-associated risks, and in order to prevent yourself from these health hazards, make sure you have immunized your body with vaccinations. The Saudi Arabian govt. has also implemented certain laws and regulations regarding vaccinations for pilgrims and they are entitled to abide by these laws. Irrespective of the age, all pilgrims must meet these regulations. Let's discuss these requirements in brief: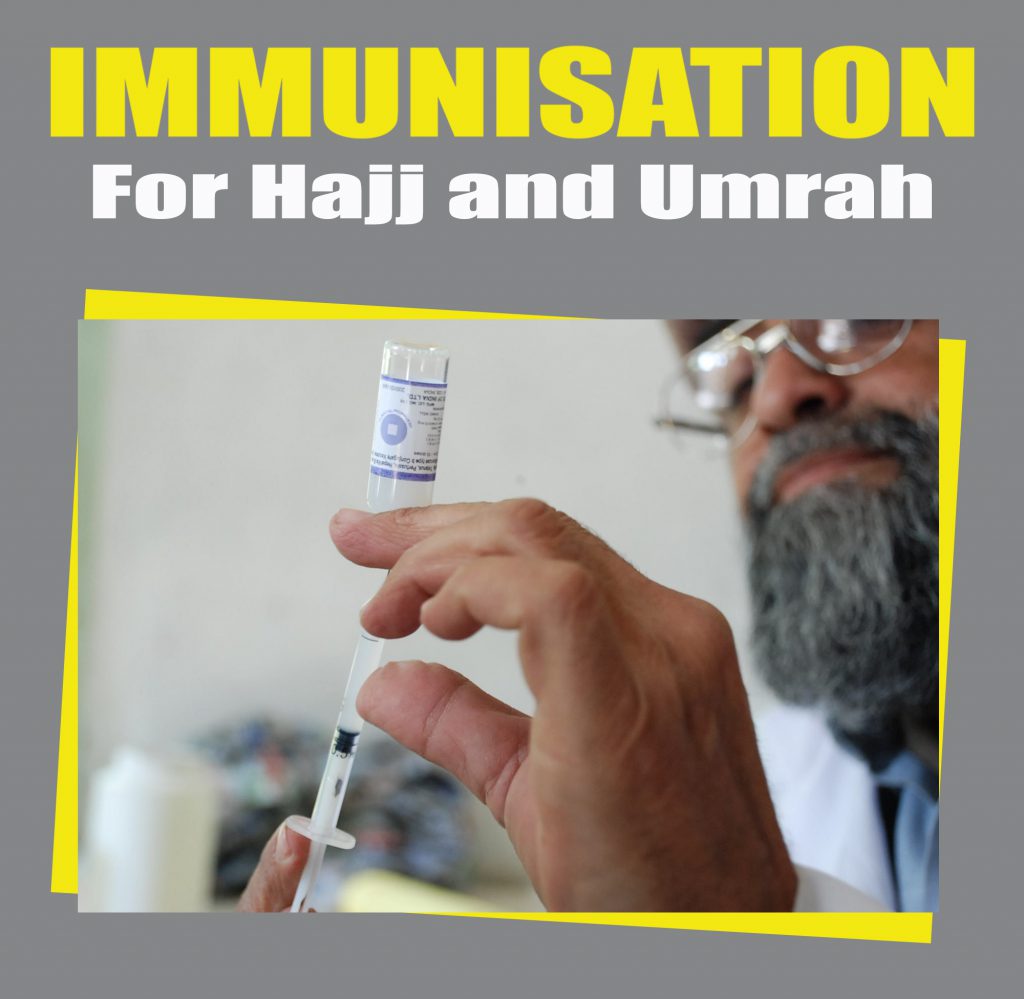 1. Yellow Fever
All travelers arriving from the Yellow Fever prone countries (Angola, Bolivia, Colombia, Congo, Brazil, Gambia, Ghana, Ecuador, Nigeria, Niger, Kenya, Guyana, Peru, Panama, Rwanda, Uganda, Venezuela, etc.) are required to present their Yellow Fever vaccination certificate at immigration. This vaccination certificate is valid for a lifetime starting from the 10th day of the vaccination.
2. Meningococcal Meningitis
Visitors arriving from all countries are requested to submit quadrivalent meningococcal ACYW-135 vaccination certificate, which is not older than 3 years and not less than 10 days before arrival in Saudi Arabia. Pilgrims belonging to African countries will be distributed Ciprofloxacin tablets to lower down the rate of carriers.
3. Poliomyelitis (Polio)
Pilgrims arriving from active Poliovirus transmission countries/ countries at risk of Polio reintroduction (as per World Health Organization) are required to present a valid Polio vaccination certificate. Travelers from Nigeria, Pakistan, Somalia, Afghanistan, Syria, Myanmar, Yemen, and Papua New Guinea will also be provided Oral Poliovirus Vaccine (OPV) at immigration points.
4. Seasonal Influenza
Influenza Vaccination is important for elderly, children below 5 years, pregnant women, and pilgrims with chronic diseases. Although, the Saudi govt. recommends such pilgrims to avoid going on Hajj and Umrah. Pilgrims are requested to immune themselves with influenza vaccination.
To know more about current and updated information issued by Saudi govt. regarding vaccination and other health-related concerns, please check their official website.