Umrah is a lessor or minor pilgrimage with greater significance undertaken by Muslims. This pilgrimage is not obligatory in Islam, but still holds greater virtues and is also considered as one of the pillars of Islam. It is one of the most beautiful Sunnah (traditional and legal customs of the Islamic community) of the Prophet Muhammad. The Umrah does not comprise of a lot of rituals, and rules and regulations. Unlike Hajj it can be carried out at any time of the year, but still there are some months whom people prefer more over others due to their significance or due to favorable conditions. Now that the number of Umrah servicesprovider has been increased in India, the pilgrims can undertake this journey at any time of the year. If you are still wondering about when to start this pilgrimage, or what can be the best possible time to perform this pilgrimage, then we have provided five options for you.
Month of Ramadan
Performing Umrah in the month of Ramadan will not only bring blessings and acceptance by the Allah, but will also bring mental and spiritual relief. The significance of performing Umrah during Ramadan is pre-eminent. It is believed that performing Umrah in the sacred month of Ramadan multiplies the reward by seventy times and accompanies countless blessings from the Allah. The premises of Masjid Al-Haram experience excessive rush and crowd during the month of Ramadan. All the hotels and airlines are almost full during this time, and if any of you is planning to perform this pilgrimage during Ramadan then book ramadan umrah package few months before to avail preferable hotels and flight tickets.
Grand Months
Usually, people choose grand months (months followed by Hajj season), i.e., Muharram and Safar, to perform Umrah. The mosque is heavily occupied during the Hajj season because it can be performed only once in a year. With the end of Hajj season, the rush of people and prices of hotels and airfares cut down to half. If you want to perform your Umrah rituals peacefully, then this is the perfect time for you. You can experience hustle free and relaxed time at the mosque during these months.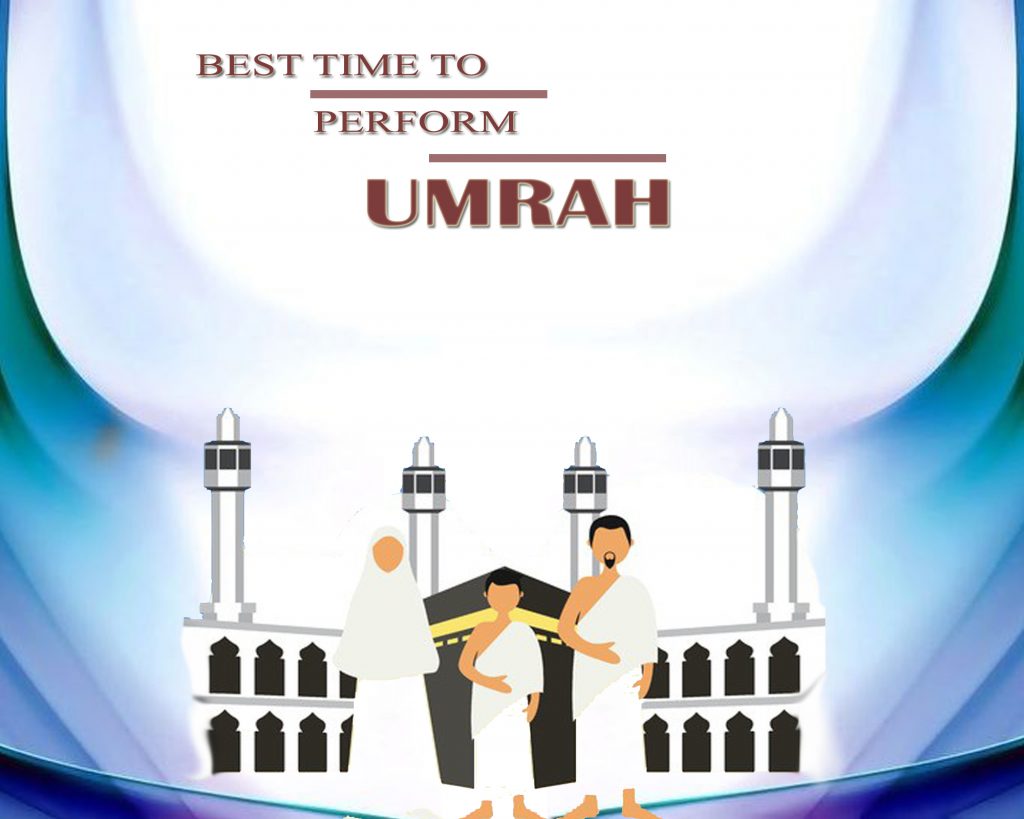 Spring Time
The climate of Saudi Arabia is extremely hot and pilgrims can experience a hard time during summer days. Whereas, springtime in Saudi Arabia is pleasant and the temperature is also bearable for pilgrims who are not used to of higher temperature. The months between Februarys to May are neither too cold nor too hot. This is the perfect time to perform all Umrah rituals peacefully, especially if you are going to perform this Umrah with your kids or elderly parents.
Vacation Time
Umrah is a sacred pilgrimage which itself holds higher significance. Most of the pilgrims prefer undertaking this trip with their family members, but sparing time at the same time can be impossible for everyone. Most of the schools and colleges are closed during the mid-year vacation time. If you too are planning to perform this Umrah with your children or friends, then mid-year vacation time is appropriate for you. Also, make sure to book flights and hotels in advance as most of the people choose this time of the year for Umrah.
Month of December
December is the best month to visit the holy cities of Mecca and Medina. During this time of the year, the weather is pleasing, and due to the end of Hajj and Ramadan the mosque premises is crowd free. You can also avail best hotels and flight tickets during this time.
There are numerous Umrah travel agency in India with whom you can book your Umrah package, but we will advise you to buy your package from an authorized agency. Superb Enterprises Pvt. Ltd. is an authorized agency which is imparting affordable and cheapest Umrah packages. Plan your Umrah with them to avail exclusive deals.